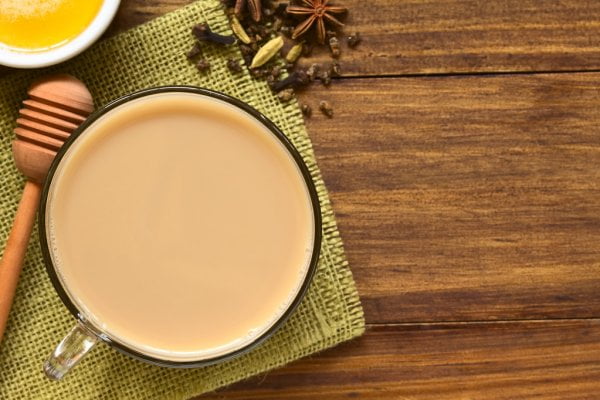 There are literally hundreds of ways of customising a warm cup of chai latte. My favourite? Infusing it saffron's delicious flavours and aroma.
The term chai has evolved through time, and now basically means any creamy tea flavoured with spices. With such a vague description, though, there's lots of room for creativity!
For this recipe I'm making my own chai spice mix, and you can do it too. I combine cinnamon, ginger, cardamom, cloves, coriander and delicious saffron to give a complex personality to the chai latte. Of course, use any spices you like, there's no limit here. Add what you like and leave out what you don't.
What you'll need
To make chai latte, you first need a cup of black tea. This is the base of any chai. I combine mine with equal parts whole milk but use any milk alternative you want. Coconut milk is a fantastic plant-based alternative.
Then you need the ground spices and you have three options here: First, you can buy a chai spice mix. Second, you can source and ground the spices yourself. Third, and my favourite, use pre-grounded spices. 
What you want to grind yourself is the saffron, because there's pleasure in turning such delicate flower pistils into a colourful powder. Just a few strands will complement the chai latte beautifully.
Tip for the perfect saffron chai latte
For a frothy latte, use an electric hand mixer to foam the warm milk. It's an extra step, but it's totally worth it. 
It might be easier to make a large batch of saffron chai latte instead of working one cup at a time. At the end of the day, as soon as the people close to you perceive the heart-warming aromas coming from your cup, they'll want one too.
Serve saffron chai latte with a few scoops of Persian saffron ice cream, or a honeyed slice of baklava. The chai latte is better enjoyed with a sweet treat on the side.
Let's head on to our recipe, so get ready for the best homemade saffron chai latte you've tried!
Saffron Chai Latte Recipe
Servings: 2
Prep time: 5 minutes
Ingredients:
1 tea bag black tea

1 cup water

1 cup whole milk

1/2 tsp cinnamon powder

1/2 tsp powdered ginger

1/2 tsp powdered cardamom

1/2 tsp powdered cloves

1/2 tsp crushed coriander seeds 

1 tsp saffron strands, finely ground

Sweetener to taste (I use 2 tbsp of sugar)
Directions:
Heat the water in a pot or in the microwave and steep the tea bag for 3-5 minutes as desired.

Heat the milk separately and incorporate it with the spices and the saffron. Use an electric hand mixer for a frothy saffron chai latte.

Divide the tea in two mugs and top them with the spiced milk mixture. Sweeten to taste and garnish with a few saffron strands. 
Nutritional Facts:
Calories 128
Total Fat 4.4g
Saturated Fat 2.3g
Cholesterol 12mg
Sodium 55mg
Total Carbohydrate 19.9g
Dietary Fibre 0.9g
Total Sugars 18.5g
Protein 4.2g
Related Products