Persian Saffron Ice Cream Topped with Pomegranate and Pistachio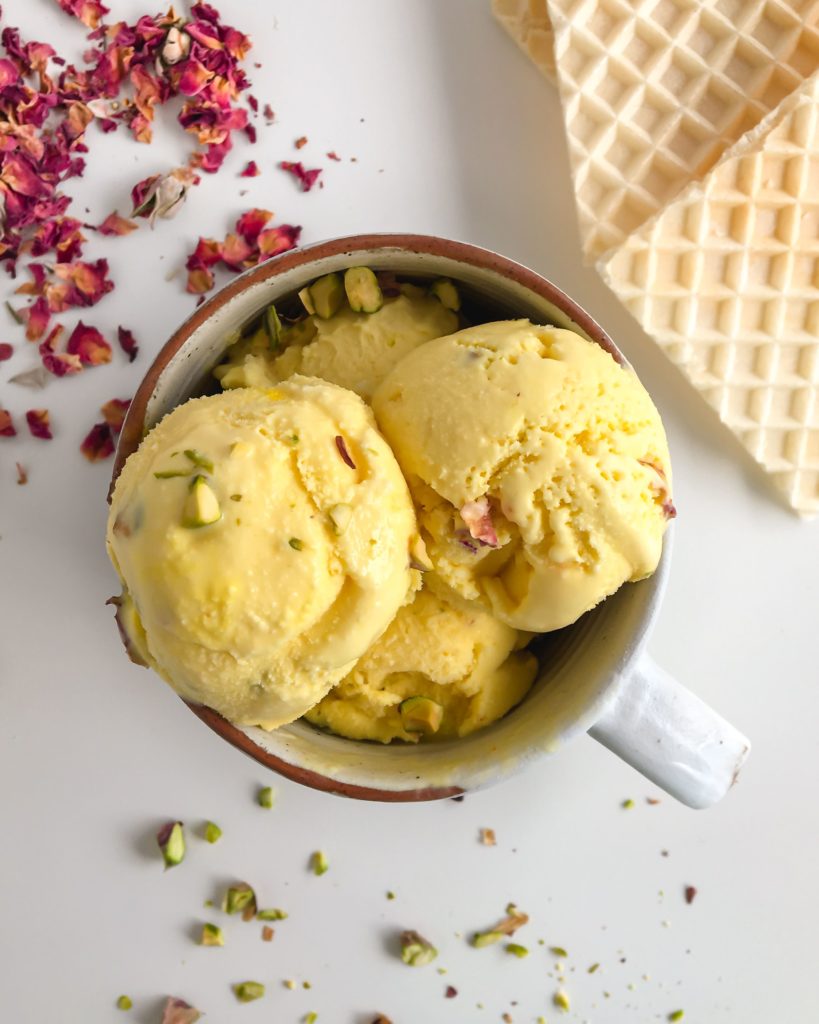 There's nothing like a creamy scoop of ice cream to end a nice dinner with a sweet treat. Everyone loves ice cream, and when homemade, it's even better. Yes! You can make ice cream at home, and below you'll find a no-churn ice cream recipe, meaning you don't need special equipment to make it.
Now, not all ice creams are created equal. Amongst the most exciting and complex ice cream flavours, you'll find the Persian saffron ice cream. And if you think the lovely scents of authentic saffron strands aren't enough, we're topping the ice cream with pomegranate seeds and crushed pistachios. That's the perfect dessert right there!
What you'll need
For this recipe, we're using two full tablespoons of authentic saffron, the most valuable spice on earth. Make sure you source your saffron from a respected merchant. Iranian saffron is the best on the market.
We're also using rose water and cardamom for extra layers of flavour, and the base of the ice cream is whipped heavy cream and sweetened condensed milk. 
The last thing you'll need is pomegranate seeds and peeled pistachios to add fruitiness and a crunch to every scoop of delicious ice cream.
Tips for the perfect Persian Saffron
Besides sourcing authentic saffron, make sure your other spices are fresh. You should replace your ground spices every few months, or even better, ground yours yourself!
Talking about saffron. The right way of making the most out of such delicious spice is grinding it yourself with a pestle and mortar and letting it sit with an ice cube for a slow infusion that's as colourful as it is flavourful.
Use a stand mixer to whip the heavy cream. What gives the ice cream a smooth texture are the tiny air bubbles trapped in the cream, so make sure you lift that cream to an airy, pillowy texture.
Persian Saffron Ice Cream Topped with Pomegranate and Pistachio Recipe
Servings: 4
Prep time: 20 minutes
Chilling time: 3-4 hours
Ingredients:
2 tbsp saffron threads plus one ice cube

1 can sweetened condensed milk (14 ounces)

2 tbsp rose water

1 tsp ground cardamom

2 cups heavy cream

1/2 cup peeled pistachios

1/2 cup pomegranate seeds 
Directions:
In a mortar or small bowl, grind the saffron strands into a fine powder. Add an ice cube to the saffron and let it melt.

In a large mixing bowl, add the condensed milk, the saffron and water mixture, the rose water and the cardamom powder.

Using a stand mixer, whisk the heavy cream, increasing the speed until soft peaks form. 

Gradually add the condensed milk mixture into the whipped cream without over-beating.

Fold in half the pistachios and pomegranate seeds.

Transfer the frothy mixture into a container, trying to keep it light and airy.

Freeze for at least 3-4 hours or until solid.

To serve, scoop the Persian saffron ice cream in bowls and top with extra pistachios and pomegranate seeds. 
Nutritional facts:
Calories 515
Total Fat 32.5g 
Saturated Fat 18.4g 
Cholesterol 108mg 
Sodium 164mg 
Total Carbohydrate 50.4g 
Dietary Fibre 1.1g
Total Sugars 43.7g 
Protein 9.3g
Related Products