Tahchin, Saffron Rice Cake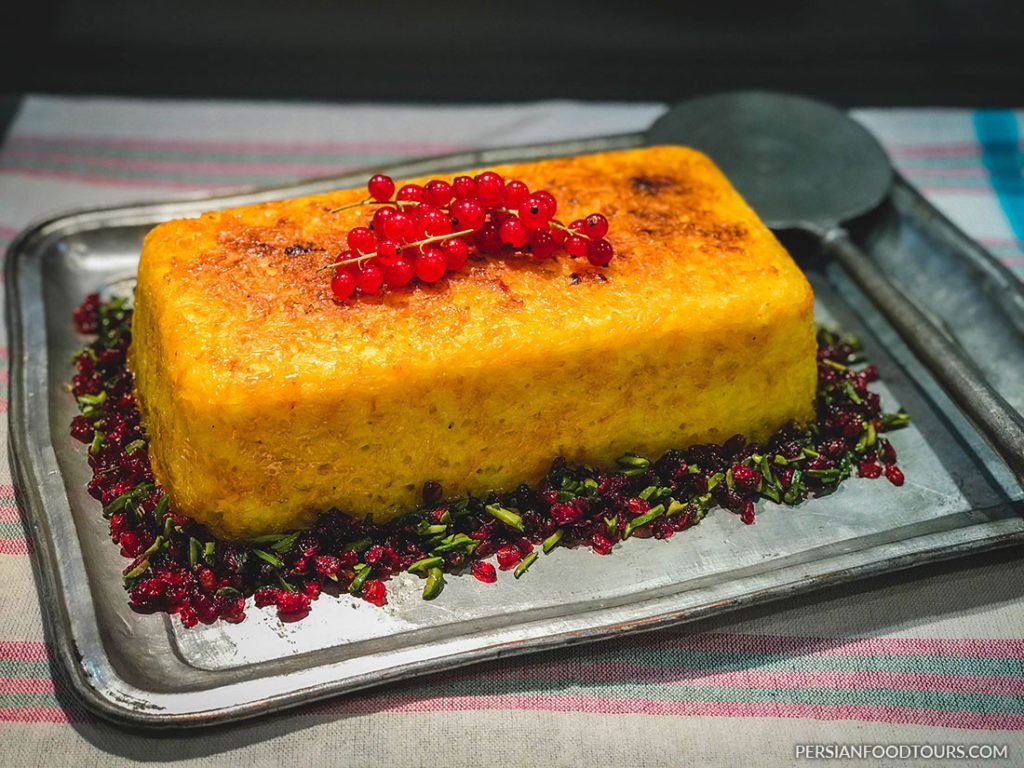 One of the most satisfying and crowd-pleasing main courses in Iranian cuisine and going back all the way to the Persian food traditions, is the Tahchin or Saffron Rice Cake.
Saffron is the star of the show here, as it gives colour and flavour to the entire preparation. Rice is what brings everything together, and we achieve the lovely moisture and creaminess by using yogurt, eggs and a splash of chicken stock.
Keep in mind that there are tahchin recipes going back for centuries, and every family has its special version. This recipe might not taste like your grandma's rice cake, but you'll still find it delicious!
What you'll need
This layered rice cake has two shredded chicken breasts in one of the lower layers sandwiched between golden rice. 
As for spices, we're using saffron, turmeric, salt and black pepper. We're making a yoghurt, egg and butter mixture, and we're using it to bring all the flavours and textures together. 
Other than that, putting together a proper saffron rice cake might be a bit or a challenge, but it's totally worth it. Garnish your cake with pistachios and if you can, use barberries too!
Tahchin, Saffron Rice Cake Recipe
Serves: 6
Prep time: 30 minutes
Cooking time: 2 hours
Ingredients:
4 cups precooked rice

2 bone-in chicken breasts

1 onion, chopped

1 tsp turmeric 

1 cup yogurt

1 egg

2 tbsp unsalted butter, softened

2 tbsp saffron threads plus one ice cube

1 cup chicken stock

Canola oil as needed

Salt and pepper to taste

½ cup pistachios, peeled and crushed for garnish
Directions:
Cook the precooked rice in equal parts of water until the water evaporates and the rice is cooked through. Set aside.

Chop the onion and reserve.

Grind the saffron threads and add an ice cube, let it melt.

In a pot with two cups of water, boil the chicken along with the chopped onion, a pinch of salt and the turmeric.

Once fully cooked, remove the chicken, allow it to cool down until manageable and shred it with two forks. 

In a small bowl combine the yogurt, egg, butter and saffron water. Season with salt and pepper to taste. Divide into three equal parts and set aside. 

Grease a round pot, make sure you have a fitting lid. 

Combine two cups of cooked rice with a third of the yogurt mixture and lay it on the bottom of the pot. Drain the rice if it has too much water.

Combine the shredded chicken with one third of yogurt mixture and top the rice to form a second layer.

Cover the chicken layer with the rest of the rice.

In a small bowl, combine the chicken stock with the last third of yogurt mixture and pour it over the top rice layer.

Cover the pot and cook the Tahchin saffron rice cake over low flame for 1:30 to 2 hours. The sides of the pot should reveal a golden but not burnt rice crust.

Remove the pot from the heat and allow it to cool down until manageable. Unmould the cake over a platter and serve with a sprinkle of crushed pistachios.
Nutritional facts:
Calories 375
Total Fat 16.4g
Saturated Fat 4.7g
Cholesterol 83mg
Sodium 268mg
Total Carbohydrate 34.4g
Dietary Fibre 1.7g
Total Sugars 4.2g
Protein 21.2g
Related Products