Homemade Moussaka with Saffron Bechamel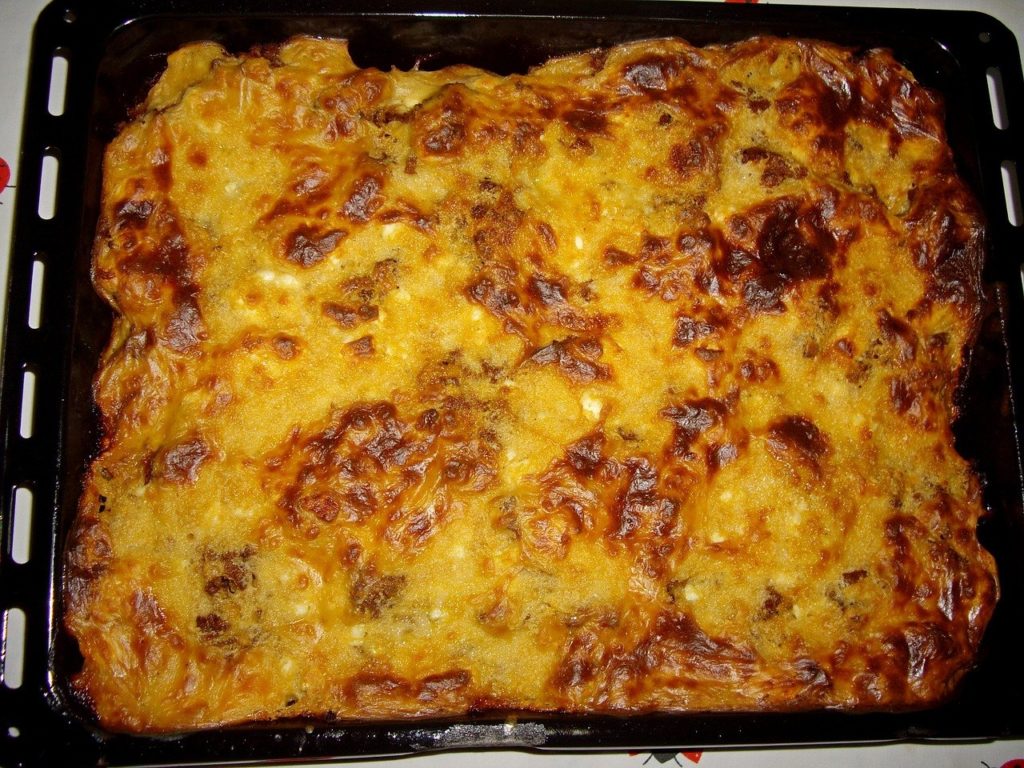 The ancient moussaka is the mother of all layered dishes. Meatiness and creaminess come together beautifully while eggplants and potatoes give some structure to the decadently melt-in-your-mouth casserole.
Making moussaka at home might be intimidating at first, but if you've ever made a pan of lasagne, you know the drill.
What makes this moussaka special is that we're using saffron, not to flavour the meat, but to give colour and aromatics to the otherwise white Bechamel sauce. You'll be surprised to see how just a few strands of fine-quality saffron can elevate the dish from a lovely homecooked meal to a restaurant-quality work of art.
What you'll need
To make moussaka, you'll need potatoes and eggplants, we're cooking them halfway and then slicing them. 
Then there's the meat sauce, in which garlic and onions will be the main flavour enhancers. Cumin, cinnamon and parsley help too.
Finally, we're making the saffron-scented bechamel sauce, which comes together by combining milk, all-purpose flour, butter and fine Iranian saffron.
Call your friends and family and be prepared to cook an extra pan of moussaka because if there's a dish to feed a crowd, that's this classic Middle Eastern dish. A classic baked delicacy that brings people together!
Homemade Moussaka with Saffron Bechamel Recipe
Servings: 4
Prep time: 10 minutes
Cooking time: 1 hour
Ingredients:
Meat sauce:
2 tbsp olive oil

1 onion, chopped

2 cloves of garlic, finely minced

1 lb ground beef

3/4 cup tomato sauce

1 tsp cumin

½ tsp cinnamon

2 tbsp fresh parsley
For the Saffron Béchamel sauce:
1 tbsp saffron threads

2 cups milk

7 tbsp all-purpose flour

4 tbsp butter

1/2 cup parmesan, grated

Salt and pepper to taste
Directions:
Bring a pot of water to a boil, add a tablespoon of salt and throw in the potatoes and eggplants. Cook until cooked halfway through 8-10 minutes. Reserve and let them cool before slicing. Set the slices aside.

Place the saffron threads into a small bowl or mortar and ground until you get a fine powder. Top it with an ice cube and let it melt.

In a skillet, heat 2 tablespoons of olive oil and sauté the onion and garlic. Add the ground beef and cook until browned. 

Add the tomato sauce and season with cumin, cinnamon and parsley. Incorporate well and cook until simmering. Remove from heat and set aside.

In a medium-sized pot, heat the milk until steaming, add the butter and sift in the flour. Incorporate the saffron water.

Stir until thick and creamy. Season with salt and pepper to taste and set aside.

Preheat oven to 350°F

In a greased baking pan, layer the potatoes, then the eggplants, the meat mixture and the bechamel sauce. Top with grated cheese and bake for 30 minutes or until bubbly.

Carefully remove from the oven, slice and serve.
Nutritional facts:
Calories 741
Total Fat 34.9g
Saturated Fat 16.6g
Cholesterol 162mg
Sodium 731mg
Total Carbohydrate 55.7g
Dietary Fibre 9.8g
Total Sugars 14g
Protein 54g
Related Products