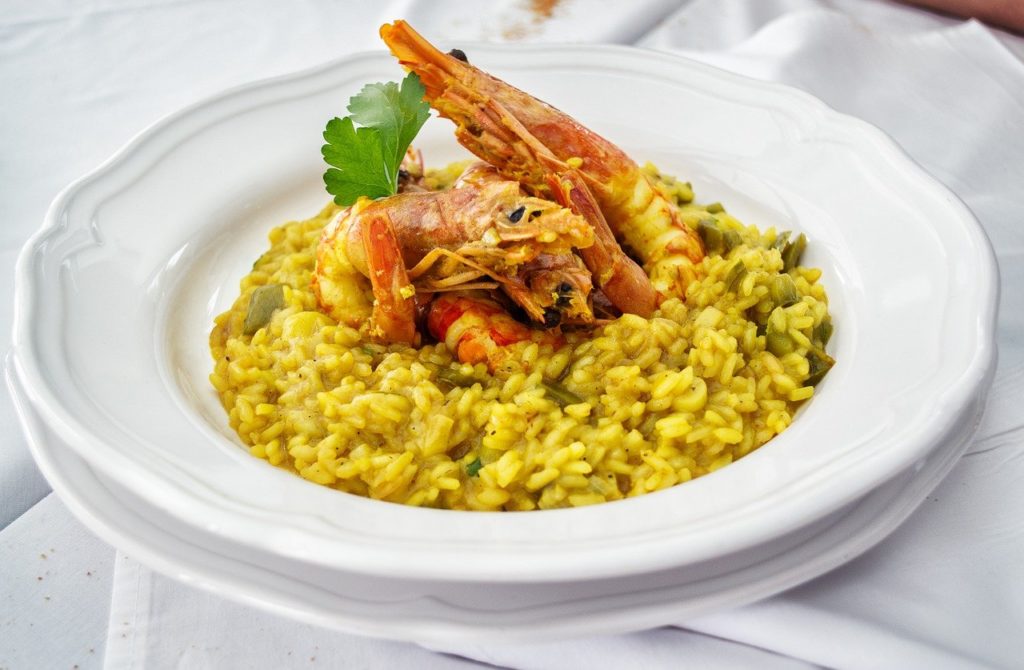 Once of the most famous Northern Italian dishes, the risotto alla Milanese is the very definition of beauty in simplicity.
Rice cooked a-laminute to become a silken, smooth dish that brings forward the most decadent flavours of saffron, the most coveted spice on earth.
There's something special about cooking risotto. Yes, it takes some skill, but once you master the classic dish, you've got yourself a fantastic recipe for special occasions. You might think you can only eat risotto at a fancy Italian restaurant, but you'll soon discover you can make your own with great results!
What you'll need
For this recipe you need arborio rice, the particular kind reserved almost exclusively for risotto. You'll also need a teaspoon of saffron — when using the noble spice, a little goes a long way.
The recipe calls for a shallot and a splash of white wine too, and what will hydrate and eventually cook the rice is vegetable broth. You don't have to make that one, you can just buy it.
Last but not least, make sure you have a nice hard cheese, finely grated to give the final creaminess to the dish.
Tips for the perfect Risotto alla Milanese
When cooking with Grana Padano or Parmesan cheese, you don't need to add salt to your preparation. Just in case, using salted butter can give the dish the perfect saltiness.
The secret behind the perfect risotto is stirring constantly while slowly adding the vegetable stock. You must let it evaporate and absorb. Then add another splash. This is the tricky part, but you'll know when the risotto is ready when you see it.
Risotto is the base for many other dishes. You can top yours with sautéed prawns for a more complete dish. Get creative here!
Risotto alla Milanese Recipe
Servings: 2
Prep Time: 10 minutes
Cooking time: 20 minutes
Ingredients:
1 tsp saffron threads

3 1/2 tbsp salted butter 

1 shallot, minced

1 1/2 oz dry white wine

3/4 cups arborio rice

3 1/2 cups vegetable broth

5 tbsp Grana Padano cheese, grated
Directions:
Add the saffron threads in a small bowl, grind them and add an ice cube to let it melt.

In a saucepan over low heat, add half the butter and sauté the mince shallot for 3-4 minutes. Add a splash of vegetable oil to prevent the butter from burning.

Pour in the rice and toast it with the shallots for 5 minutes. 

Pour in the white wine and let it evaporate and absorb entirely. Add the saffron water and let the rice cook for 15 minutes while adding vegetable broth as needed — keep the rice covered with broth at all times.

Once the rice has softened, gained a silky texture and there's no more noticeable broth, remove from heat and stir in the rest of the butter and the cheese. 

Garnish with a few extra saffron threads and serve immediately. Enjoy!
Nutritional Facts:
Calories 719
Total Fat 37.2g
Saturated Fat 22.4g
Cholesterol 53mg
Sodium 1486mg
Total Carbohydrate 59.9g
Dietary Fibre 2g
Total Sugars 1.4g
Protein 30.1g
Related Products